To upgrade your appliance, you will need the following:
ADMIN level access credentials for the appliance
The firmware file on your local computer that you want to upgrade to.
The firmware files are available here.
Log into your appliance with the admin level credentials.
You will see the main landing page of the appliance.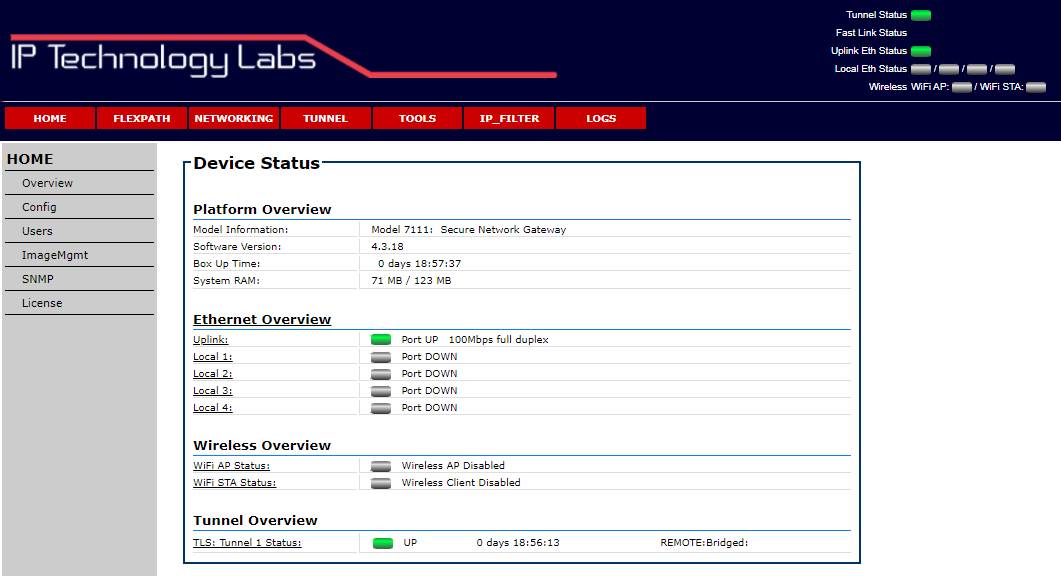 On the left-hand bar, Click on ImageMgmt to navigate to the system image and configuration management page.
For firmware upgrades, you will use the Software Upgrade box.
NOTE: If your Software Upgrade box does not allow you to choose a file or indicates that your appliance is not eligible for firmware updates, you will need to contact support here to help you enable your appliance for updating.
Click the choose file button and navigate to the .iptl file image you wish to upload.  Note:  all IpTL firmware for IpTL appliances ends with the .iptl extension.

When ready, click on the Upgrade Image button to begin the operation.
NOTE: Once started, you cannot cancel an upgrade.  DO NOT POWER DOWN UNTIL COMPLETE.
Once the file is uploaded, the system will verify and prepare the image to burn into flash and automatically reboot.

Once complete, you will see a confirmation message, and your upgrade is complete.